What is "Recorder Karate"?

Recorder Karate is a fun method I use in music class to teach my 4th grade students how to become better recorder players. We spend part of a music class working on skills they need to play songs, they are given practice time, and then they can come to my desk to play a "belt test song" for me. They have to play it all by themselves, and play it correctly to earn their belt for their recorder. The belt is just a colored piece of yarn that they can tie on to the bottom of their recorder. They also get to put a sticker on the recorder chart next to their name. This system seems to work well to motivate the students to practice, and improve their musical skills inside and outside of my classroom.



---
Here is some amazing recorder playing
to get you inspired!
---
Give me the.....recorder five!
1. Left hand on top
2. "Finger prints"
3. Cover the holes completely
4. Gentle, soft air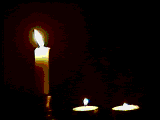 5. Listen for a beautiful, clear sound
---
Here are our "belt test" songs for this year:

White - Articulation patterns
Yellow - Hot Cross Buns (see music below)

Orange -Little French Song

Purple - Major Duple

Blue - Hot Cross Buns duet
Brown - Funky Buns!